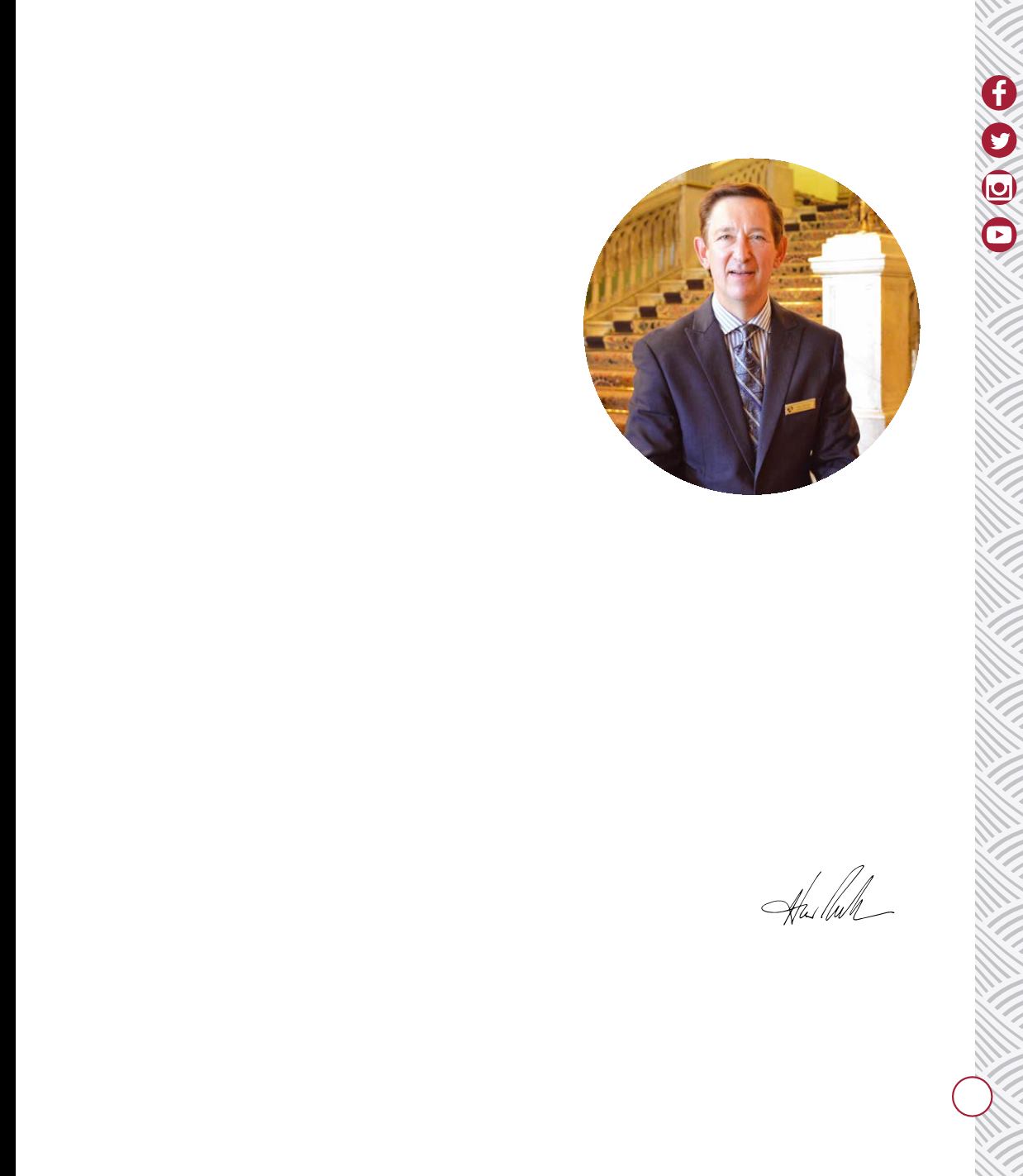 A WORD FROM THE GENERAL MANAGER
In this issueof buzz, thereare
several great events, features and
evenanuncoveringof theoriginsof
somemainemblemsofRamadan.
I am soexcited toexperience
Ramadan this year at theCairo
MarriottHotel.Wehave somany
great thingsplanned for theholy
month; fromour stapleStreetChic
Som3aBasha
EgyptianNights
Omar'sCafé
tocheckourRamadanarticle for
Wehavehadaprettybusycouple
ofmonths…To launchMeetings
Imagined, thehotel hosted the
EverydayMarketingSeries for
youngentrepreneurs. Also, The
Foosball tournament endedwith
a spectacular event, set upbyour
Meetings Imaginedconcepts and
tools. Another bigeventwas the
namingof super star Yousra, the
newUNAIDSgoodwill ambassador.
On the same linewasourBreast
Cancer event to increaseawareness
for earlydetectionandprevention.
Our Spirit toServe section is also
worth reading if youare looking to
Wecan't forget about a littlebit of
entertainment andenlightenment
startingwith theoriginsofRamadan
symbols, theevolutionof theCaftan
andof course theArt&Culture
Finallybe sure tocheck the secret
ofMarriott'sBakery successwith
our insider interview. I amalso
proud toannounce thatCairo
Marriott received8global and
regional awards for excellence!
Thanks to thewonderful teamswho
workwithdedicationandapassion