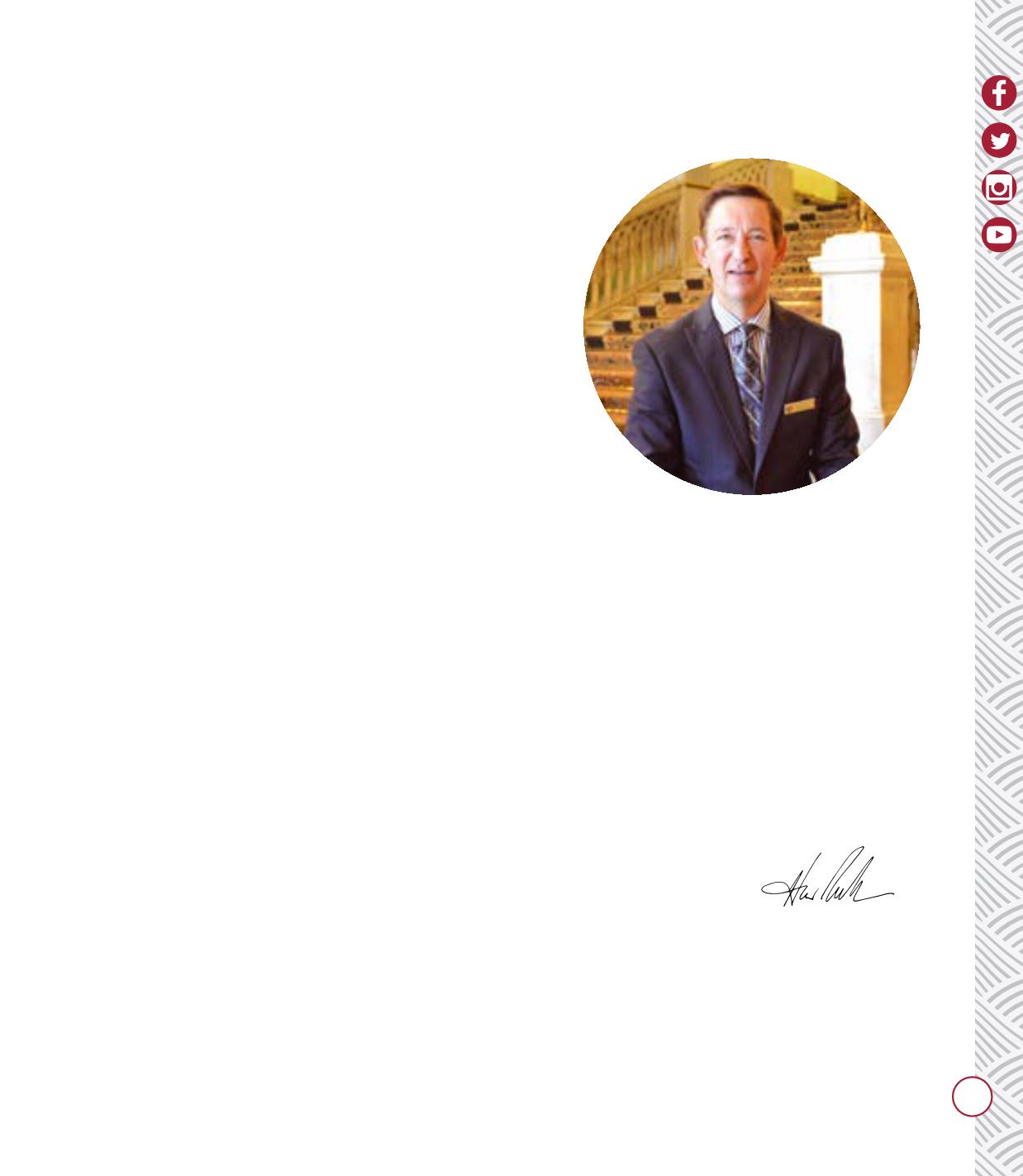 A WORD FROM THE GENERAL MANAGER
Thefirst sixmonths arealwaysexcitingafter anew
year. Thehope forwarmerweather is renewed,many
resolutions aremadeandmost of us strive todobetter
than theprevious year. This is thecasewith theCairo
In this issueof Buzz…Wearehappy to sharewithyou
someveryexcitingnews! Thehotel'spool areawill be
going throughnew renovations andwill beoperating this
year. Part of the renovations is theadditionof theSaray
Spaglobal brand renowned for their natural rejuvenation
techniques. For our littlebit of history,we learn the story
of Kasr ElNil Bridgeand thehistorical significance it
holds. As for fashion, florals are still prettymuch in style
withD&G's latest collections. And speakingof Fashion,
Iram'sChristmasdinnerwitnessed frosted fashionistas!
Alsocheckout theZamalekAssociation's "Dancing in the
Wealsohaveexcitingoffers linedup for you, fromEaster
andValentine's to restaurant surprises! Roy'sAmerican
breakfast iseverythingyoudreamedof andOmar's café
isbackwith internationally themedcuisine. Finally, be
sure tocheck theCairoMarriott'sparticipation in the
RiseUpSummit 2015andMarriott'sGlobal Customer
Appreciationweek.Meet the stewarding teamandget to
understand the level of detail their job requires.
For thefinalwords, anewyearmeansnewpossibilities. If
you see it andbelieve it, thenyouwill achieve it! Let goof
the stress and remember toenjoyyour life! Fromall of us
hereatCairoMarriott,wewishyoua fantasticyear!