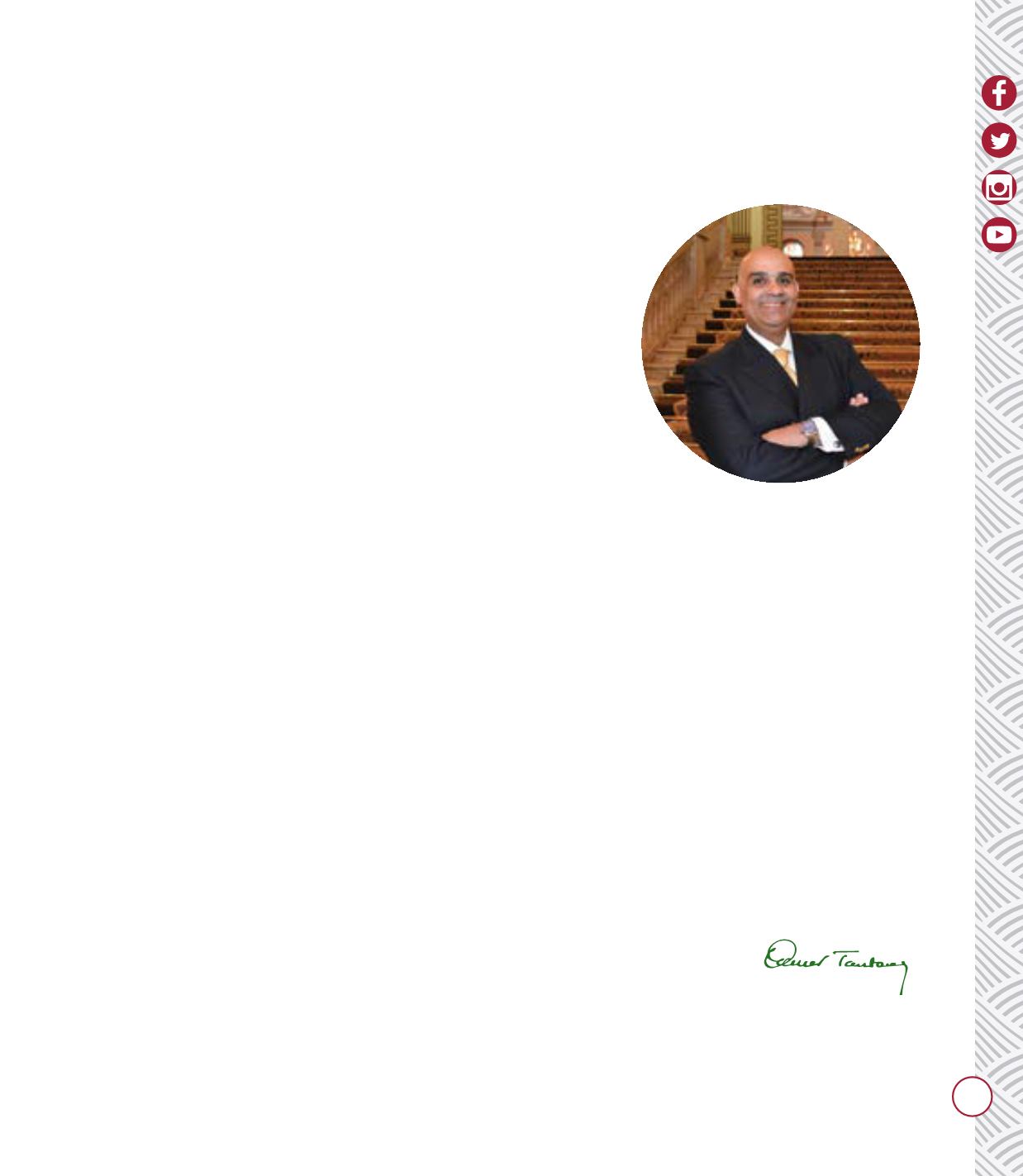 A WORD FROM THE GENERAL MANAGER
Acelebration is inorder! FromNewYear's toEaster and
beyond, excitement is in theair! This is alsomyfirst letter
as thenewlyappointedGeneralManager and Iwould like
togreet all of our readers andwishyouavery fulfilling
In the tenth issueof buzz,weexploremoreof Zamalek's
richhistorybyuncovering stories about someof the
oldest buildingson the island. InFashion,we learnabout
theorigins andevolutionof theverypopular jeans. And
speakingof fashion, CairoFashionNights6thedition
washostedatCairoMarriott ina "RoomService" unique
shoppingexperience. Another excitingexperiencewas
theTEDxCairoWomen inspirational talkwhereActress
AminaKhalil sharedher empowering story. Speakingof
actors, for thefirst time the89thAcademyAwardswas
celebrated in styleatMarriott'sRoyal Suite, itwas a truly
funexperience! Finally,Messi's visit toEgyptproved tobe
a strongpush in thefight againstHepatitisC, flip through
thepages to learnabout hisTour n' Curecampaign.
On theother hand,wedding season isnear andwecan
hear thebells ringing! Be sure tocheckout ourwedding
article for venuesoverviewanda surprise for newlyweds.
For thoseof youwho love theRedSeaasmuchas I
do, readall about our luxury resorts for an incredible
vacation.Wecan't forget about all themothersout there,
takemomout to lunchor dinner for somequality timeon
Mother'sdayandget 50%off.
Fromall of ushereat theCairoMarriott,wewishyouall a
fantasticyear andpromise thatwewill alwaysbeat your