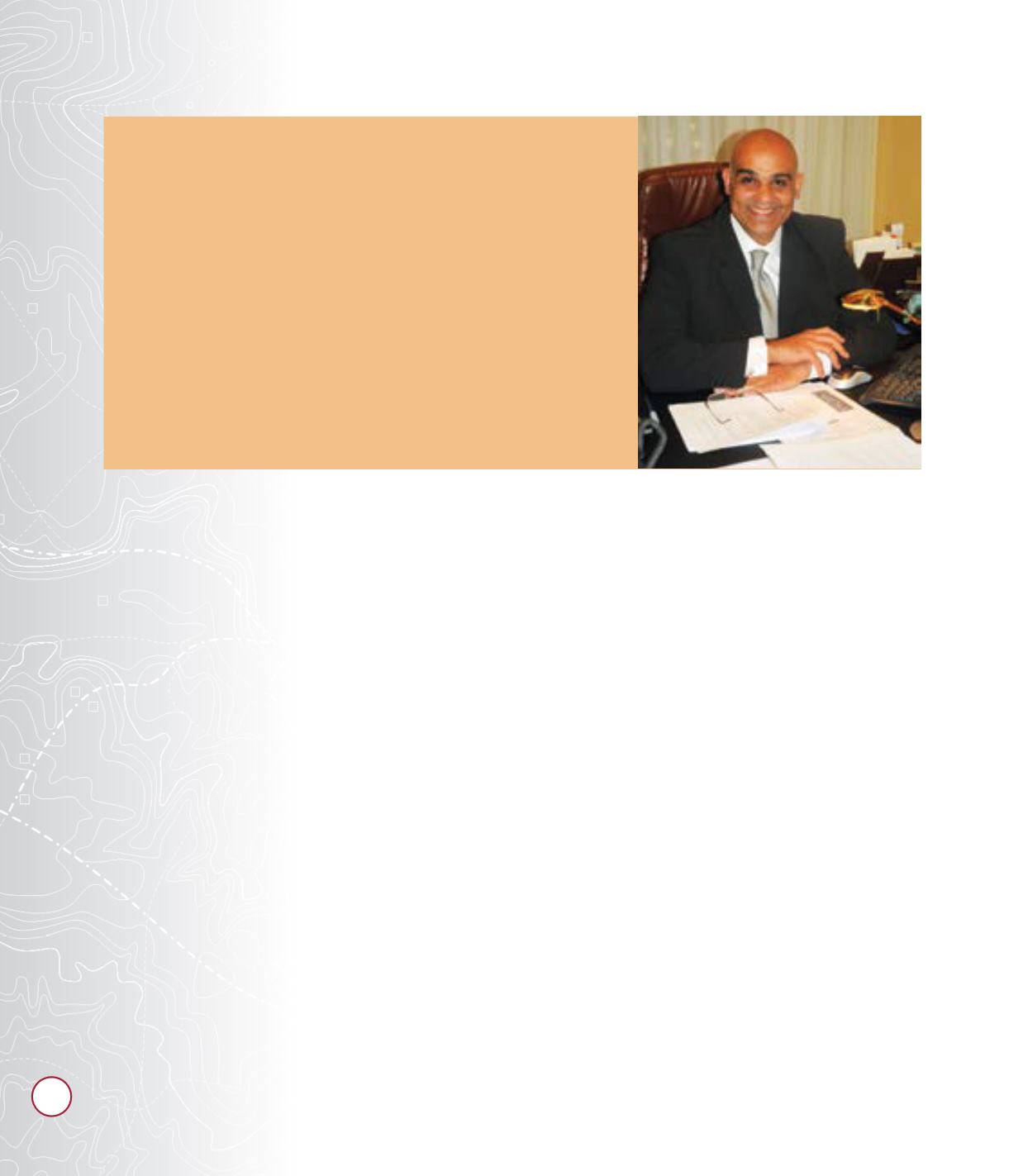 CAIRO MARRIOTT'S NEWLY APPOINTED
Howdid it all start for you?
I startedworkingat SheratonEl Gezira in 1988,
as aRoomClerk. Thehotel had just opened so I
was there from thevery start. I count themas the
formationyears, I spent thefirst tenyearsofmy life
there. It helpedbuildmycharacter, developbusiness
ethics andaddedgreatly tomyexperience. I left ten
years later, as theDirector of Sales for thecorporate
After that, I startedworkingat theRoyalMeridien
NileTowerwhichwas later converted toGrand
Hyatt. By2003 Intercontinental CityStarswas
preparing toopen for business so I startedworking
with themand Iworked there for 5yearsuntil 2008
afterwhich I joinedMarriott. Since then, I havebeen
aResidentManager for 9years, taking theduties
of theGeneralManagerwhenever he isnot on
property. After theMenaHouseacquisition, Iwas
appointedas theGeneralManager thereand itwas
definitelyachallengebecause it is a legacyhotel
andwehave tomaintainand improve it up to the
Marriott standardswhilealsoprotecting itsheritage.
Now, as thenewlyappointedGeneralManager for
CairoMarriott, I still oversee theMenaHousebutmy
main focus is, of course, theCairoMarriottHotel.
Inyouropinion,what is theone thing that
differentiatesMarriott fromother hotel
chains?
We sell anexperience.Onecannot be rigidand
rulesmust beflexible tobeable toaccommodate
different desires, needs and requests for everyone.
All in the frameworkofMarriott's International
standards, ethics andcommitment.
Doyouever compareMarriott toother hotels
youhaveworkedat?
Becauseofmyprofessional experience, I findmyself
oftencomparingdifferent hotel companieswhich
I cannot really stopmyself fromdoing. Every time
I do this comparison,Marriott alwayswins. The
system, themanagers, theethics thatweall abide
by is totallydifferent. It gives youpride, a senseof
commitment andmotivates you tobepart of the
Fromyourperspective, asanEgyptian,what
doyou thinkof thecurrent stateof tourism?
I think that theharddays areabout to fadenot just
for tourismbut alsoour economy, I think thatwewill
get out of thebottleneckhopefullybynext year. The
n this interview,we introduceCairoMarriott'snewGeneral
ManagerOmar Tantawy. Hehasbeenapart of theMarriott
family for tenyears; his impeccabledesire for serviceand
attention todetail helpedhimbecome, thefirst Egyptian
GeneralManager for thisproperty. Belowwediscusshis
professional historyandhis futureplans for theCairoMarriottHotel…